As COVID-19 regulations have begun to wind down thanks to testing and vaccine availability, many Americans have the urge to travel after being cooped up inside for so long. But, if you're like most Americans, you may be worried about the cost of traveling following the pandemic. Fortunately, traveling doesn't have to be expensive if you choose cheap vacation spots and take steps to minimize your travel expenses.
There are several ways that you can reduce your expenses while traveling to cheap vacation spots. After all, traveling on a budget is all about the way you travel, where you stay, what you eat, and so on.
Split Your Expenses: Chances are, some of your friends and family may be itching to travel too. Traveling with a group lets you split expenses, letting all of you save money on rentals, hotels, dining, and more.
Eat Locally: Instead of eating out at expensive chain restaurants, try eating locally. Street food is typically the cheapest option, and it allows you to try local cuisine. Additionally, you can eat at local mom-and-pop restaurants to further your experience of the area while saving a buck.
Use Local Transit Systems: Cab services and rideshares can quickly add up. Consider using local transit systems where possible while you travel. Your wallet will thank you for it.
Travel During the Off-Season: It's not just about finding cheap places to visit. Every tourist area has on and off-seasons. Those dates vary based on where you intend to go. So do some research ahead of time and choose to travel during the off-season to shave hundreds off your expenses.
Never underestimate the value of these small but effective cost-cutting measures. By taking the time to plan out these more minor details of your vacation, you can save a lot of money. Of course, that means more money for your next vacation or money to splurge on attractions and souvenirs.
Are you looking for the cheapest places to vacation? There's plenty to choose from! Here's a look at eight of the cheapest places to go on holiday.
1
Glacier National Park, USA
If you're looking for the best vacation spots for couples on a budget, look no further than Glacier National Park. Glacier National Park is perfect for couples searching for romantic scenic views, intimate hikes, and adventure.
Entry into the park is incredibly affordable, and many of the famous sites and hiking spots are free to visitors.
In addition, you can save even more and further your adventure by camping out in nearby campgrounds.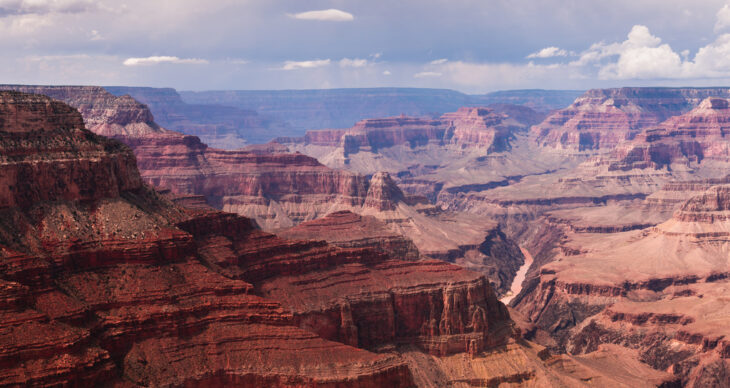 One of the best family vacations on a budget is a visit to the Grand Canyon. Not only is this one of the best vacation spots for families, but it's also one of the cheapest places to travel.
The Grand Canyon is a sight to behold and an unforgettable experience. Entrance fees into the canyon are nominal and include many of the park's most popular attractions.
There are so many attractions at the Grand Canyon that you can quickly fill up your vacation with adventure, sightseeing, and shopping.
Gatlinburg, Tennessee, offers a vacation like no other. This outdoor area is outside the Great Smoky Mountains National Park, giving you two vacation destinations at nominal costs. Gatlinburg provides an immense amount of attractions, outdoor activities, and breathtaking views. It's a perfect and cheap trip for couples, families, and groups.
4
Puerto Plata, Dominican Republic
Are you searching for the best budget Caribbean Islands vacation? Cheap trips to go on don't need to be limited to vacations within the states. Puerto Plata is on the northern coast of the Dominican Republic. This Caribbean Islands vacation destination spot has all-inclusive resorts, sandy beaches, local cuisine, and adventurous attractions.
Florida isn't just about theme parks and Miami Beach. St. Augustine is a cheap vacation spot that offers a look at one of the country's oldest cities. The city is full of historical landmarks, unique vacation rentals, and attractions. There's even, yes; you guessed it – the St. Augustine Beach, a 4-mile shoreline that includes a fishing pier and splash pad.
If you're looking for one of the cheapest places to travel with a view of gorgeous mountains, consider Colorado Springs. Colorado Springs offers many free attractions, hiking opportunities, and breathtaking views of the mountains. You can take scenic drives around the area, view Colorado Springs street art, visit the Cheyenne Canon Park, or take a trip to the Cheyenne Zoo, a zoo built on a mountain! There's plenty to do in and around Colorado Springs, and you don't have to break the bank to enjoy everything that this vacation destination has to offer.
San Antonio has many sightseeing opportunities, including the Alamo and River Walk. Check out the Natural Bridge Caverns during your visit or stroll through the San Antonio Missions National Historical Park. Looking for a bit of excitement? Enjoy a day of thrills at the Six Flags Fiesta Texas water park!
Mexico is one of the best countries to visit on a budget. If you're interested in traveling outside the United States without breaking the bank, consider well-known tourism areas like Cancun and Tulum. Or, save even more by exploring the beautiful coastline near Oaxaca. In many cases, vacations in Mexico can be cheaper than more prominent cities in the United States because of different currency values and high inflation costs in America.